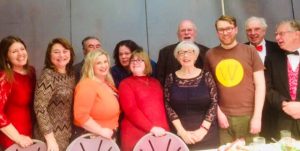 The Company's committee is elected every year at the AGM.
As of 26th March 2019, the committee is as follows:
(Expand or collapse to see the duties attached to each role)
CHAIR (AKA Chairman, Chairwoman) – Dominic Hinkins
Chair member and committee meetings;
Call meetings and set meeting agendas;
Liaise with Social Secretary to organise annual Chairman's Garden Party;
Often first point of contact for members.
VICE CHAIR – Shirley Moffat
Fulfil chair's functions in chair's absence;
Organise regular play readings (if none organised by members);
Assist other officers in carrying out duties as required.
SECRETARY – Amanda Eastwood
Take minutes of member and committee meetings;
Produce and distribute a regular members' newsletter;
Liaise with Chair and other officers to communicate with members and committee via email and social media regarding meetings, news and social events, etc.
TREASURER – Daniel Barrett
Manage all company finances and pay bills;
Organise collection of subscriptions and maintain records of paid up members;
Coordinate with Theatre Manager to ensure all utility bills are paid;
Prepare audited financial returns and charity commission reports;
Manage company's insurance and music PRS licensing;
Organise production performing rights and ensure conditions are complied with;
Keep records of ticket and sundry sales;
Monitor production budgets and refund expenses;
Issue ticket refunds.
WARDROBE MANAGER – Priscilla Danby-Burbidge
Act as first point of contact for directors and producers to organise costume for productions and publicity;
Manage and maintain the company's wardrobe stores;
Liaise with costume hire services and organise delivery and return of costume in good condition;
Oversee manufacture and alteration of costume as required;
Manage the borrowing of theatre costumes from stock by members;
Organise the laundering of costumes during and after productions and ensure they remain in good state of repair;
Organise the issuing of costume to casts, and ensure it is treated with due respect while so issued (i.e., personal hygiene and eating/smoking in costume);
Delegate above tasks to production teams and assistants as appropriate.
THEATRE MANAGER – Brian Burbidge
Responsible for all physical aspects of maintaining the physical fabric of the theatre and barn, including pest control and utilities (meter readings etc.);
Liaise with theatre landlord as necessary;
First point of contact on health and safety and risk management within the building;
Oversee working parties drafted to maintain the theatre decor;
Coordinate with production teams, technicians, set builders, etc. to ensure theatre is safe and compliant for members and audiences;
Ensure H & S policy is up to date and published;
Ensure all statutory posters are published and posted;
Meet Firestop min 6 times a year for tests (office hours);
Needs to be available during working hours for contractors;
Ad hoc ELDC safety inspection;
Have working knowledge of H&SAW act 1974 and statutory instruments following;
Read HSG 192 safety for charity organisations and note any actions relevant;
Be (or appoint) competent person under the Fire Safety Reform Act 2005;
Fire risk assessments; fire alarm tests; emergency lighting checks and tests;
Annual risk assessment excluding fire risks;
Risk assessments for rehearsals and productions with directors;
Arrange safety and cleaning supplies;
Ensure all insurance requirements are met;
Check all seating before performances for damage and carry out repairs if needed;
Conduct minor repairs as required;
Check smoke alarms and replace batteries if required;
Delegate above tasks as appropriate.
PUBLICITY OFFICER – Gail Hinkins
Ensure regular output of publicity promoting the Company and specific events and productions on website, radio, newspapers, social and other media.
First point of contact for directors and producers on poster and programme design.
Liaise with printers to print posters, leaflets, programmes, and other material.
Sell and organise programme adverts, and maintain records of advertisers.
Invoice advertisers annually and collect or chase for payment.
Organise paid adverts for the theatre and events where appropriate (such as in other organisations' event programmes and online).
Organise the distribution of leaflets to tourist information centres and other locations.
Delegate above tasks to production teams and volunteers as required.
SOCIAL SECRETARY – Anna Maria Vesey
Form a social subcommittee and report back on its activities to the Committee.
Organise a regular programme of social events for members and their families (including annual summer garden party & Christmas party);
Organise club nights (at least monthly) to provide continual opportunities for members to socialise when not taking part in productions. Club nights may take the form of play readings or facilitating coffee or pub meets;
Organise member trips, away days, and visits to shows at other theatres. These may be subsidised by the Company.
ARCHIVIST – Christina Holmes
Maintain and catalogue the Company's archives of posters, programmes and publicity material going back 50 years;
Acquire copies of any publicity material produced for the Archives;
Liaise with the Secretary to maintain paper and digital copies of all member and committee meeting minutes;
Organise the digitisation of archive material as appropriate;
Maintaining and cataloguing the Company's library of play scripts.
YOUNG STAGERS – Sheena Liversidge
The Chairman of Horncastle Young Stagers.
ORDINARY MEMBER (WITHOUT PORTFOLIO) – Russell Alder, Jane Whitlock, Natasha Lowes
Attend committee meetings and vote on matters affecting the company;
Take on any other delegated roles as they arise;
NON-COMMITTEE ROLES
Webmaster/Social Media Manager – Dominic Hinkins, Natasha Lowes
This position is appointed by the Committee to a volunteer (who may or may not be a 'member without portfolio' or another member);
Administer the company's website and social media accounts, ensuring regular content and updates (Facebook, Twitter, and Instagram);
Liaise with the Secretary, Publicity Officer, and other officers as appropriate.
Librarian – Derek Le Page
This position is appointed by the Committee to a volunteer (who may or may not be an 'officer without portfolio' or another member);
Liaise with the Secretary and Social Secretary to order, collect, deliver, and return play script sets from the public library;
Hold a key to the theatre, and liaise with the Archivist to maintain and access the theatre's own library of play scripts.
Musical Director – Chris Hinkins
This position is appointed by the Committee to a volunteer (who may or may not be an 'officer without portfolio' or another member);
Oversee the production of live music in the theatre;
Hold a key to the theatre, and coordinate with production teams and musicians as required.
Production Coordinator – Russell Alder
This position is appointed by the Committee to a volunteer (who may or may not be an 'officer without portfolio' or another member);
First point of contact for directors & producers to discuss and advise on practical aspects of set building;
Organise set building and painting teams and, unless delegated, act as foreman responsible for teams' risk management and health and safety compliance;
Liaise with set building volunteers, set painters, and scenic artists to construct and decorate each set;
Liaise with the Treasurer on the ordering of set building materials and budgets for each set;
Hold a key to the Theatre, and open theatre for 'set break' following a production's last night.
Front of House Manager – Elaine Barrett
This position is appointed by the Committee.
The Front of House Manager (FOHM) is responsible for all matters relating to members of the public attending performances at the Lion Theatre; making sure all Front of House procedures as defined by the Committee are carried out to ensure the safety, wellbeing and comfort of all audience members as and to enhance their enjoyment of their visit to the theatre.
The FOHM role is autonomous but it is expected that there will be liaison with the Committee via the Vice Chairman, and during each performance with the show's Stage Manager or responsible person back stage.
During their time in the role, the FOHM is not permitted to take either acting or backstage roles in any production.
The FOHM is responsible for ensuring sufficient properly trained and experienced Front of House volunteers are available to attend every performance at which members of the public will be present. A pool of such volunteers will need to be maintained and if necessary, the FOHM will need to actively recruit volunteers to the pool to ensure that there are sufficient people available for all productions in the theatre calendar at any given time.
The FOHM is required to undergo appropriate Health and Safety and First Aid training (provided by the Theatre Company) and ensure that all volunteers are fully aware of all Health and Safety directives as provided by the Theatre Manager. The FOH team at any given performance should include one qualified First Aider.
For every show the FOHM should ensure that there is a nominated deputy to take over the FOHM duties in the event of the FOHM being unable to carry out the role.
It is not necessary for FOH volunteers to be members of the company. However, for insurance purposes, they must be notified to the Secretary as Associate Members. It will be the responsibility of the FOHM to ensure this and to inform the Secretary if a volunteer no longer wishes to be part of the team.
It is expected that the FOHM will become fully conversant with the booking system and liaise with the booking office and/or webmaster regarding the audience numbers for a performance and whether there are any special requirements to be noted.
The FOHM is in charge of all matters relating to the audience during a performance and will be expected to make all necessary decisions on, for example, how to deal with disruptive behaviour, ticketing issues, an audience member becoming unwell or having an accident. Any such incidents will need to be reported to the committee as soon as practicable afterwards.
The FOHM is responsible for maintaining and monitoring the stock of ice-creams, in conjunction with the Treasurer.
During performances, the FOHM is responsible for monitoring and maintaining stocks of consumables such as paper towels, ensuring the continued good order and cleanliness of the auditorium and toilet areas, liaising with the Theatre Manager and Treasurer where required.
This position is appointed by the Committee to a volunteer (who may or may not be an 'officer without portfolio' or another member) for an indefinite term;
Act as a legal trustee of the Company and oversee the distribution of its assets and payment of debts in the event of the Company winding up.