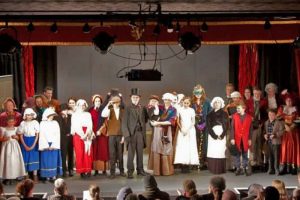 Horncastle Young Stagers was founded in 1985 to provide a total theatrical experience for children and young people of Horncastle and surrounding areas. Initially it was for 9 – 14 year olds but over the subsequent years and growing numbers it has extended from 7 to 18 year olds across two groups: –
Young Stagers – 7 to 12 year olds
Up Stagers – 12 – 18 year olds
The aims and objectives of these groups are to:-
To offer equal opportunities to all youngsters including those with special needs.
Give young people a full and practical programme of theatrical workshops on a weekly basis
To bring these groups together to explore ideas, themes and create characters and inhabit theatrical worlds.
To offer the chance to perform in full length plays and musical in their own environment.
To take part in adult productions when plays require it and dance and act in the adult companies annual pantomime.
To give confidence to work together to establish good team working.
To exchange and share skills, experiences and techniques of the theatre.
To enable young people to develop tools and techniques in acting, stagecraft and directing productions of their own.
-Sheena Liversidge, January 2013
Sections: