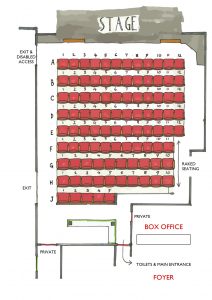 We are sorry to report that as of 2020, Horncastle Music Shop has closed and is no longer the box office for Horncastle Theatre Company.
At present, tickets can only be booked online. We are exploring options for reopening a box office in town in future.
If you require a wheelchair space, or have other special requirements, please contact the Box Office before booking.
Ticket prices are usually £7 and £6 concessions as of September 2016*. There are discounts for group bookings (10 for the price of 9) and season tickets are available. No concessions are available on Pantomime tickets.
Clicking 'Book Now' will redirect you to an external, secure website to complete your purchase.
*Please note that bookings made online will incur an additional booking fee. Terms and conditions apply.
BOOK ONLINE