The Company is proud to present See How They Run, a farce by Philip King, directed by Dominic Hinkins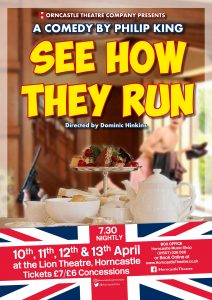 Fast-paced, hysterically funny and very silly, this classic comedy by a master of British farce has it all.
An AWOL army private, an ex-actress, a cockney maid who's seen too many movies, a respectable spinster who touches alcohol 'for the first time', an elderly bishop, an escaped Luftwaffe pilot – and not forgetting four men dressed as clergymen, galloping in and out of the four doors of a village vicarage.
For a night of clerical fun that will leave your ribs thoroughly tickled, take a seat and watch the chaos unfold!
7.30 PM nightly at the Lion Theatre, Horncastle (doors open 7.00)
This amateur production is presented by arrangement with Samuel French Ltd